Legacy Browser Experience
Last updated
Applies to:

Role required:
Organizations that require support of older browsers can customize their legacy browser experience in MindTouch.
The degraded browser experience is a self-contained skin that appears when a user tries to view a MindTouch site in a browser that is no longer supported. When your site is viewed in an unsupported browser, all users are treated as anonymous users, i.e. they will only be able to view content.
The legacy browser experience will appear for anyone who views your site in Internet Explorer 8, 9, or 10. Users who view your site with modern browsers will still get your default MindTouch experience.
The simplified skin for the legacy browser experience has no pro member functionality or page thumbnails but allows for a limited amount of custom branding which will have to be added to your regular branding.
Your pro member users will receive the below message informing them that their advanced functionality is no longer accessible. All other user types will be redirected to the new skin without any messaging about the legacy browser experience.
Because most legacy browsers do not support different variations of CSS, the CSS you've applied to your header and footer will be stripped out. Instead, custom CSS can be configured separately through your control panel. Administrators will see the legacy browser CSS at the bottom of their Custom Site CSS page.
You can then use this to apply any legacy browser specific CSS in order to brand your site for your legacy browser experience. If you're unsure about whether certain types of CSS are used, caniuse.com is a great resource which will inform you of supported CSS properties on legacy browsers.
How the user experience is affected
Branding and images
Because of the limited CSS and JavaScript support in older browsers, custom branding such as CSS and header and footer templates will be rendered separately from your default site's custom branding. This means you will have different header and footer templates as well as CSS in the control panel specifically rendered for this legacy browser experience. While there will be no page thumbnails visible, the site logo in the header section of the skin and images used inside your articles will still be displayed.
Chrome Browser
Legacy Browser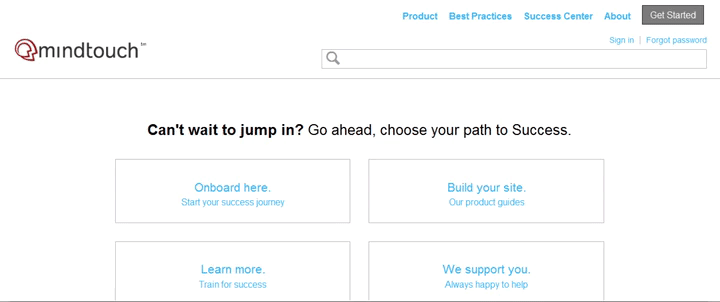 Sign-in
The ability to sign in, register and reset your password still exists in the new skin but will not display content or features differently based on user type. This means that your site's single sign-on (SSO) will still work.
Restricted pages and conditional content
Pro member features such as authoring, content management, or site administration are not available, nor is pro member conditional content. Community members will see community member conditional content or any conditional content available for their group membership. Anonymous user will see anonymous conditional content.
Any signed in user will be able to see restricted pages, providing they have the permission to access them.
Navigation
Your users will be able to navigate your site through the use of user interface (UI) elements such as the MindTouch structured framework, search, breadcrumbs, and previous and next pagination. Header and footer templates are rendered specifically for this legacy experience.
Search
Breadcrumbs
Pagination
All versions of the MindTouch framework have been styled in this skin so that it can be used across all skins. If your site doesn't use the MindTouch structured framework, then your users will have difficultly navigating through your hierarchy unless you provide them with navigation through your legacy browser header/footer templates or content pages.
Articles
Article pages in the legacy browser experience contain many of the same elements that they do in your regular MindTouch site such as the page title, last updated, table of contents, back to top link, and previous and next pagination. Social share, PDF generation, related articles, and article feedback are not available through the unsupported browser.